Comprehensive implementation of card payment service and Cloud EFT in parking meters
Read more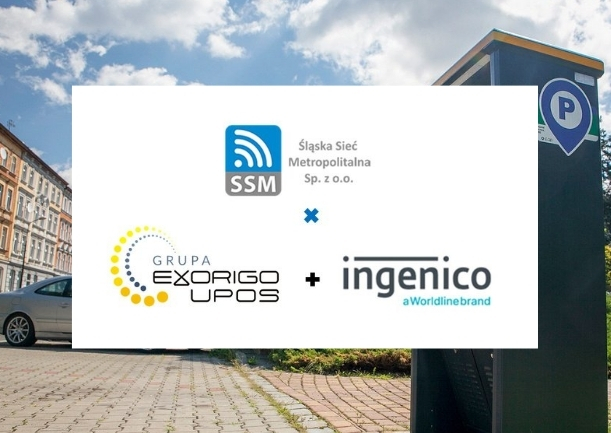 Challenge
The Paid Parking Zone has been operational in Gliwice since 2015. Residents using it have so far made payments via the app or cash.
The Silesian Metropolitan Network, wanting to provide users with the comfort of making payments quickly using parking meters, was looking for a proven partner to carry out this task.
The requirements included the delivery of suitable terminals supporting non-cash payments, their installation, and the implementation of functionality in PayPass, PayWave, and NFC technologies in PIAP devices located in the Paid Parking Zone Gliwice.
Solution
The choice fell on Exorigo-Upos S.A., which guaranteed the execution of the project in the expected time and taking into account the complexity of works. It was not without significance that the company, which has its branch in Gliwice, has many years of experience in implementing advanced IT services, including the maintenance of payment terminals.

Providing the residents of Gliwice with convenient cashless payments required several works: delivery of Ingenico Self 2000 terminals, designing and then carrying out the installation in the devices. An important step was also the preparation of terminals for handling payments, including uploading appropriate software in the certified Secure Room in Gliwice.

An essential element of the whole project was to ensure the speed of transactions and, at the same time, their security. For this purpose, the Cloud EFT payment hub was an ideal solution. It is the only Polish software with a PCI P2PE security certificate. Exorigo-Upos' proprietary solution is working in retail outlets, e.g. it supports all card payments in nationwide chain shops in Poland.

Key to the success of the implementation was the cooperation of all parties in the project. Exorigo-Upos took care of the installation and software. Ingenico was up to the task of providing the required number of modern devices in a short period. The team of Śląska Sieć Metropolitalna integrated the cash register system with the new solution.
Result
In a record time of 11 weeks, it was possible to install 121 Ingenico devices and the necessary software and integrate it with the POS system.
At the end of the project, Exorigo-Upos trained the employees of the Silesian Metropolitan Network to become well acquainted with the functionality of the card payment system.

As of 2 October, residents of Gliwice may already use contactless, cashless and, most importantly, safe payments for parking. It is worth pointing out that the project was completed on 4 September, so as many as 30 days before the residents' final use of the solution.