We all buy online – the report "Omni-commerce report. I buy conveniently 2023"
Read more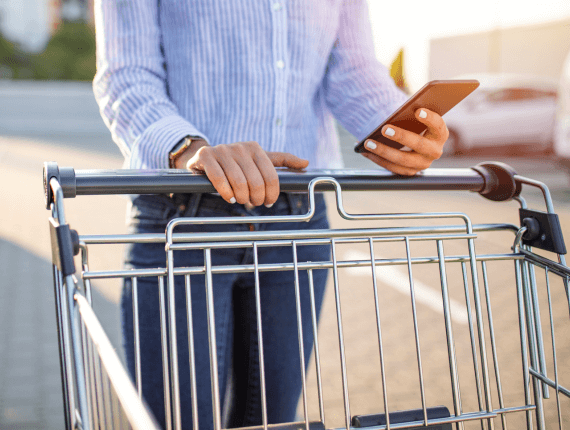 Retailers, do you want to win the hearts of consumers and achieve success? The only effective way to do so is to implement an omnichannel strategy, as confirmed by the latest edition of the report "Omni-commerce. I Buy Conveniently." According to it, the importance of e-commerce is growing all the time – all Polish internet users have already made a purchase online. Consumers are also increasingly mixing channels on their customer journey. Want to learn about more findings from the survey? Enjoy your reading.
Online sales still on an ascending wave
Every Polish internet user has already purchased at least one product or service online. This represents a year-on-year (y/y) increase of as much as 13%. What's more, 85% of respondents have bought something online within the last 6 months, and as many as 28% of them have made a purchase online more than 5 times in the last month ( a 12% increase). 7 out of 10 consumers report that the size of their e-basket exceeds or is at least the same as their counterparts in traditional retail outlets.
So not only is the frequency of online shopping increasing, but also the value of the products bought there. And this is not only due to inflation, as the e-baskets of Polish internet users increasingly include products previously purchased almost exclusively in traditional stores.
What is the reason for these increases? One in three respondents says it is dictated by the uncertain economic situation, and consequently, the desire to improve their financial situation and control their budget. As consumers declare – there are more promotions and greater frequency of them in the online channel, as well as more favorable return terms and overall lower prices
Traditional stores still in the game, but need to change
The increase in consumer activity in e-commerce, does not mean that consumers have abandoned or intend to abandon shopping in brick and mortar. Although it should be noted that only 19% of respondents declare that the latter are their favorite place to shop, a decrease of 10% y/y. Polish consumers will continue to shop in traditional stores, but they expect in them the convenience and modern solutions they encounter when buying products online.
For nearly 75% of respondents, it is important for a brand to be available in multiple sales channels. A similar percentage declare that information from the internet encourages them to visit a traditional store, which translates into a 9% increase in the ROPO effect compared to last year. Importantly, as many as half of the respondents migrated between channels during their last purchase, an increase of 13% y/y.
Consistency of the shopping experience is extremely important, as consumers are spending more and more time researching and comparing prices, reviews and product information. They are also more willing to share opinions and evaluate a purchase. However, they expect modern solutions to do so, as well as the fastest possible response to the questions they ask the store.
M-commerce also sees growth
The number of consumers buying products using a mobile device (known as m-commerce) is on the rise, with 62% of respondents declaring such activity, an increase of 4% y/y. Moreover, a growing number of respondents admit that they will increase the value of purchases made using a mobile device in the near future. One in four internet users and one in three mobile shoppers intend to increase the amount spent using m-commerce.
Shopping cart abandonment and cross-border shopping
6 in 10 consumers say they have abandoned a shopping cart at least once. The most important reasons for this action are unclear return and complaint policies on the online store's website. Another important reason for abandoning a shopping cart is the lack of a preferred (or used) payment method. Among the latter, respondents include BLIK, quick transfers, and, more recently, Google Pay or Apple Pay.
Retailers should listen to the needs of consumers, because if the latter are not satisfied, they will direct their interest to other brands. The same goes for prices – if the consumers find them too high (especially during rampant inflation), they will look for cheaper products from competitors. Also the one from other countries – 22% of Polish internet users already buy abroad, and the main reason for such actions are more favorable prices.
Summary
All the results and conclusions in the report lead to one main conclusion – retailers must implement an omnichannel strategy ( more and more often referred to as omni-commerce). That is, to be present in as many sales channels as possible and implement modern solutions that meet consumers' expectations – providing them with convenience and unique experiences.
The report "Omni-commerce. I Buy Conveniently 2023" was prepared by the Chamber of Digital Economy and the Mobile Institute. The survey on which it is based was conducted in the second half of April this year using the CAWI method, its results are representative of Polish internet users.
Discover the possibilities of the modular OmniCommerce for RETAIL system: