Smart cart, an innovative solution for brick-and-mortars
Read more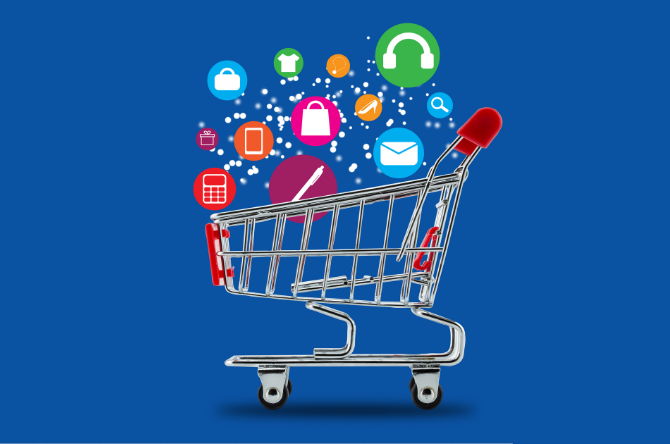 There may soon be a lot of buzz about this solution – smart cart is a smart clip-on device for shopping carts. It allows grocery stores (primarily, but not exclusively,  e.g. DIY stores can also benefit from it) to improve the shopping process and acquire customer data. The online channel gives retailers the opportunity to gain valuable information about customers and their shopping habits, and this is difficult to do in traditional stores – to which many consumers have returned after the pandemic. Smart cart is expected to change that and, just as importantly, provide customers with a better shopping experience.
What is a smart cart?
Shopic's smart cart is a clip-on device that is attached to the cart when the customer enters the store. All products that the customer will put into the cart will be scanned by a computer vision supported by Artificial Intelligence. It will recognize each product inserted (or removed) and show them on a large touch screen, along with a summary of the value of the entire cart.
What's more, the smart cart can also navigate the customer through the store. And when he or she has already put all the necessary items in the cart, does not have to go to the checkout, but pay cashless using the smart cart and credit card. At the end, client should just take the device off the cart and put it back on the shelf where it will recharge and from where the next customer will take it.
The very idea of smart shopping carts is nothing new. For example, the PSH Lewiatan store in Lodz has been equipped with smart shopping carts since 2021. It allows customers to go through the shopping system in its entirety – from scanning the purchased products to the payment. A year earlier, Amazon introduced a similar solution at one of its supermarkets in Los Angeles. The smart cart, however, has at least one advantage over them, which is that… it is not a cart.
Advantages of the smart cart
Implementing this smart solution in a store does not require a large investment in infrastructure. The fact that the smart cart is a clip-on device that can be attached to any cart, means that it will fit in with carts that are already on the chain's equipment. Thanks to the subscription model of using Shopic's solution, the only major investment on the store's side setting up the charging wall. So another advantage of this solution is its short implementation time.
As mentioned earlier, the smart cart improves customer experience. And it does so multidimensionally. It shows the total value of the products in the cart, so the customer knows all the time how much he or she will have to pay for the selected products (similar to how it is when adding multiple goods to an e-store's virtual shopping cart). It also helps in navigating the store and avoids checkout queues.
Smart carts can allow stores to reduce checkout counters or eliminate self-service areas (where, according to research, many consumers have experienced various problems and malfunctions) and allocate the space so freed up, for example, for additional racks of goods. It is worth mentioning here that the AI used in the smart cart learns during operation, ensuring accuracy and reliability.
In addition, with personalized recommendations displayed on the smart cart screen, the store can influence an increase in the total value of purchases.
Providing valuable data
The aforementioned advantages are not all, however. This AI-based system is capable of much more than just scanning products and "turning" itself into a self-service checkout. Smart cart is constantly tracking various metrics and providing retailers with valuable information – of course in accordance with privacy rules.
Shopic's solution indicates, for example, which products are most popular, which aisles customers visit most frequently, which product categories are gaining in popularity, or how many products consumers buy during a store visit. All this information can, and in fact should, influence what products are in the store's inventory, what promotions the store runs and when, how store displays are designed, and so on. They can also help make changes to the store's layout to make it better suited to customer preferences.
Using this information in practice, retailers will be able to implement changes that will translate into increased customer satisfaction with their shopping experience, and therefore profits.
To make the data even more valuable, the checkout experience can be integrated with the software the store already uses, such as POS systems or loyalty applications (both solutions you will find in our offer). Data is collected in real time, which will allow retail chains to make faster and more effective decisions.