SCO is an effective remedy for customer frustrations
Read more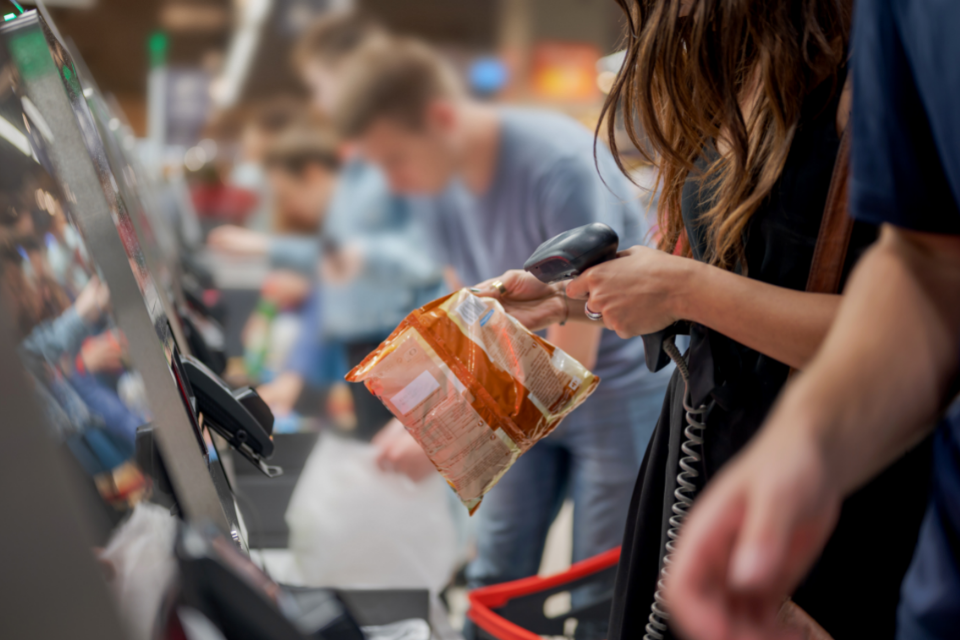 The need for automation in the retail industry has been growing steadily for several years. Last year, due to the pandemic, was a significant acceleration of this trend. Many technological barriers began to disappear, and the situation forced companies to use solutions that modify the shopping process. Customers expect from traditional stores a seamless experience, known from e-commerce, without contact with a cashier. A recent survey by UCE Research and SYNO Poland showed that 2/3 of Poles want more self-checkouts in stores.
Solution for problems encountered by customers
Self-checkout (SCO) is the solution to several problems that shoppers encounter in traditional stores. Consumers are most bothered by checkout queues, according to a survey conducted by Mastercard in cooperation with Maison&Partners. This is the opinion of 47% of respondents. At the same time, customers are aware that the introduction of Self-checkouts will solve this problem – as many as 51% of respondents indicated SCO as an effective way to shorten the queues. The use of self-checkouts also helps to eliminate two other problems indicated by consumers in the survey – contact with a rude salesperson (26% of indications) and lack of change (12% of indications).
The benefits of SCO
Installing self-checkout systems in stores, in addition to reducing queues (according to SCO analysis, they can reduce them by up to 45%) has several other benefits for retail chains.
Increased revenues. It is influenced by the reduction of the number of people who, if they had to stand in line, would give up their shopping. Especially in times of increased traffic, when efficient queue management is required, SCOs are an invaluable help. Revenue growth is also impacted by the reduction of money clearing losses through cashier shifts, as well as the increased space allocated to sales functions (once traditional checkout counters are replaced by SCOs).
Customer satisfaction. Unloading checkout queues affect the customer experience of consumers and thus the image of the store. Especially for people who come to the store to buy just a few products and would like to go through the shopping process quickly and efficiently. And many Poles shop even 50 times a month. This also translates into higher sales.
Increased productivity of employees. Self-checkouts allow for the optimization of time and labour costs. Employees, instead of serving customers at the cash desk, can be delegated to other tasks. For 4 SCO stations, it is enough to assign one person to supervise them.
Space-saving. Up to three SCOs can fit in the place of one traditional checkout station. This allows for more efficient use of space, which is especially important in stores with smaller spaces.
Increase impulse purchases. In the space that will be freed up by the elimination of traditional checkout stations, product shelves can be placed, allowing to increase revenue from impulse purchases.
Our SCO
The trend in consumer needs, mentioned at the beginning, creates demand for self-checkouts in traditional stores. Our Research and Development Department has developed its own SCO project, based on experience gained during many years of cooperation with retail chains in Poland and abroad. As developers of POS software, EFT payment software, and our hardware, we know the entire retail ecosystem very well.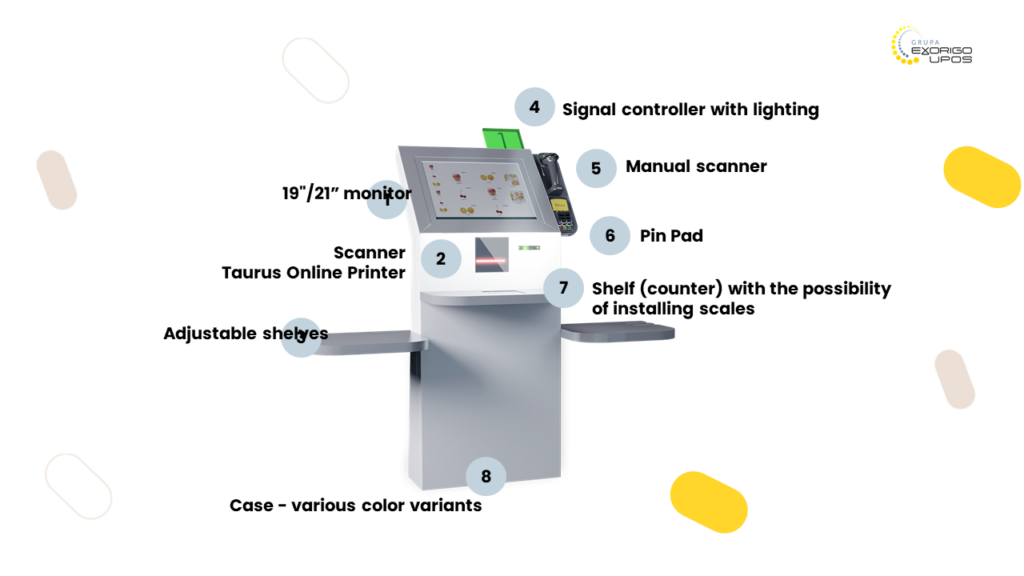 Our Self-checkout is distinguished by an integrated and fully embedded fiscal printer, Taurus Online model. This has a positive effect on the design of the device and is also very important from a practical point of view – it reduces the vulnerability of the SCO to damage. Thanks to Taurus Online our self-checkouts are the only ones on the market that allow registering sales without printing a receipt (GUM approval). The receipt is then recorded on the Electronic Journal copy and functions in the SD memory of the equipment.
Taurus Online printer allows the use of paper rolls with a diameter up to 200 mm. Such thickness makes it less frequent for the staff to change the paper rolls. If we add to this the fact that proven, reliable components are used, the whole operation of SCO Exorigo-Upos, from the point of view of store employees, is trouble-free. Resistant to damage materials make the cash register keep its proper appearance for a long time. It is also devoid of any unnecessary elements.
The SCO we designed is built from modules. Since we deliver the whole solution, we can easily adjust it to the customer's needs, e.g. in terms of the arrangement of the shelves or colour scheme. This allows our solution to be used in any store format and any industry.
Our goal is to provide customers with the fastest possible shopping process. That's why we have equipped SCO with an intuitive interface that helps to smoothly go through the whole shopping process – from scanning the products to paying for them.
It is also particularly noteworthy that our self-service checkouts are an eco-friendly solution. The device monitors its condition, including temperature and energy consumption, and goes to sleep at the appropriate time.
Our experienced nationwide on-site service team is responsible for ensuring that your device is functioning properly. It is a guarantee of the highest quality and speed of service.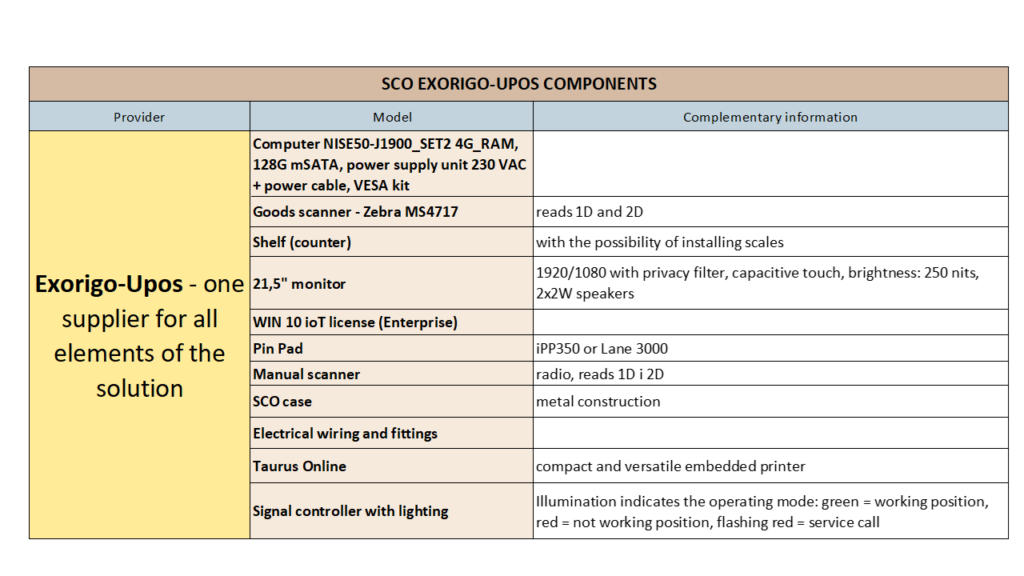 If you are interested in our SCO solution, please contact us.