New forms of delivery in response to growing consumer demands
Read more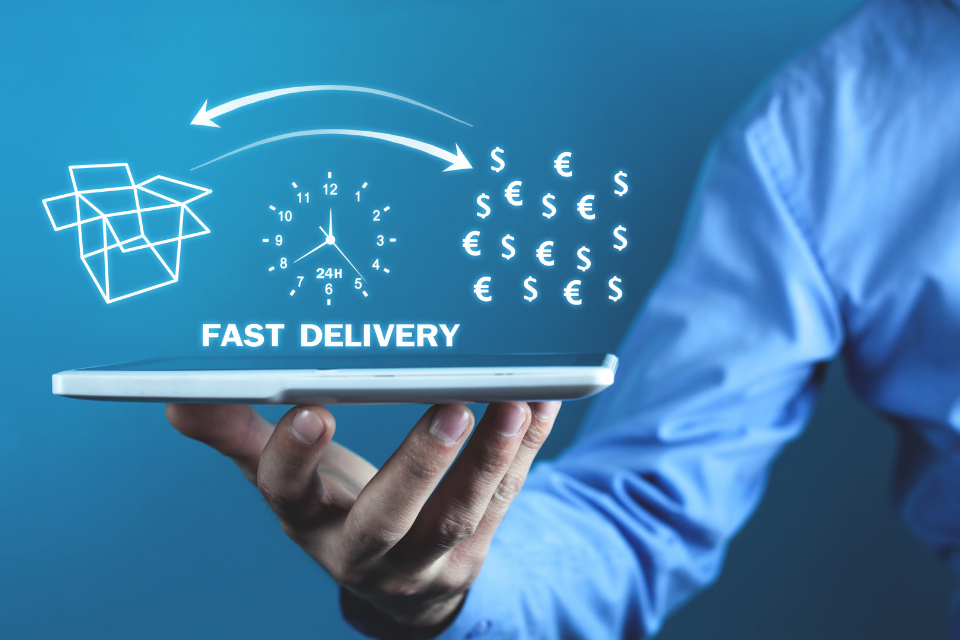 The share of e-commerce in consumers' shopping basket is constantly growing. Their requirements for product delivery are also increasing. Today's consumers want to receive a product as quickly as possible from the moment of purchase – as if they were buying it directly from the shop shelf and not online. Large retail chains, in particular, should take care of the fastest possible delivery of goods from their offer. They have the opportunity to quickly implement this solution and can use it to build their competitive advantage.
Time is very important
The results of a study by Gemius and the Chamber of Electronic Economy E-commerce in Poland 2020. Gemius for E-commerce Poland show that when it comes to delivery time, respondents are most motivated to shop online when delivery is within 8 hours of ordering products.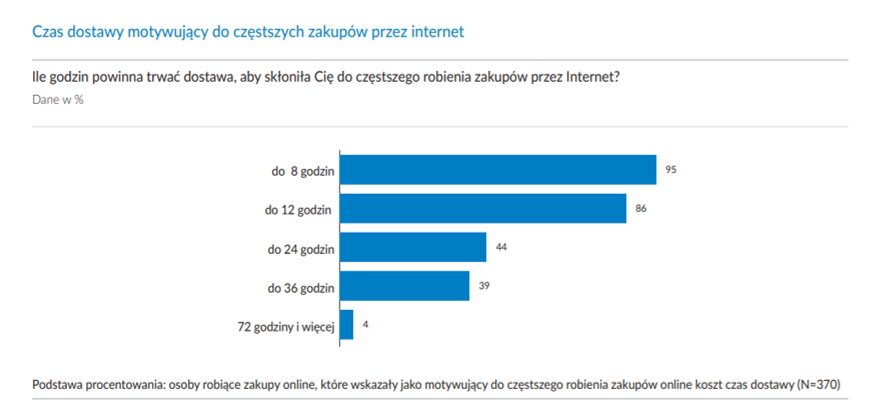 Consumers, therefore, expect delivery of ordered goods even on the same day. Moreover, according to Marek Różycki from Last Mile Experts, 37% of consumers in Poland are willing to pay extra for such a fast delivery method. Lack of such delivery option during online shopping may result in the customer abandoning the basket and choosing another shop. Companies must have noticed this, because, as comments Dr Arkadiusz Kawa, Director of the Łukasiewicz Research Network – the Institute of Logistics and Warehousing in the report What bites e-commerce? Mobile Institute and the Chamber of Electronic Economy from March this year: Same-day delivery is developing very dynamically (…).
Ship from store
When it comes to instant deliveries, the solution of sending ordered products directly from brick and mortar shops (ship from store) instead of from a central warehouse is becoming more and more popular. This form of delivery significantly shortens the time of delivery to the customer. The spread of ship from-store should make the delivery of purchases on the same day a standard.
The ship from store delivery option was introduced in 2014 by US shop chain Best Buy. In its annual summary, the company highlighted that this move had increased product availability and reduced delivery times. Meanwhile, last year, 250 shops belonging to this chain (selected in terms of space and location) were partially transformed into online order pickup points.
In Poland, express deliveries of its products have recently been introduced by Decathlon. Thanks to the cooperation with DeliGoo, purchases made in its online shop are to be delivered to the customer even within one hour of the transaction. The solution is currently used in a few cities, but is to be gradually extended to other cities. Moreover, Decathlon, together with two partner companies, is launching a pilot drone delivery programme in Lublin. This unmanned aerial vehicle will transport products between shops so that they reach customers faster. If the programme is successful, it should cover the whole country.
Parcel machines are doing better than ever
The data from the survey in Poland, on the other hand, show that the most popular delivery method for online shopping is parcel machine delivery (61%), which has displaced courier delivery in the first place.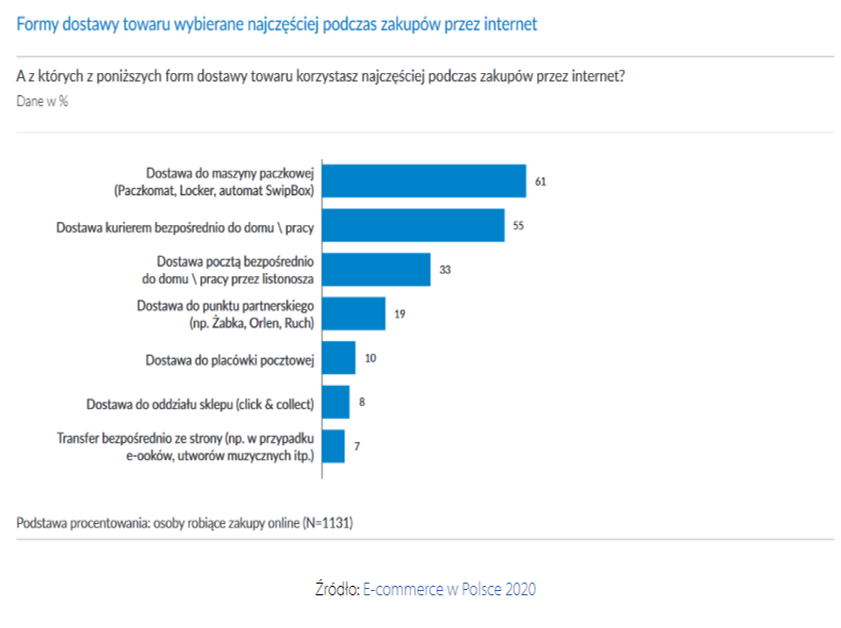 Customers value parcel machine deliveries because they can collect their goods at any convenient time. Therefore, it should come as no surprise that InPost, which dominates this market in Poland, intends to launch 100 parcel machines a week this year. The number of such devices InPost in our country reached 11 000 in February, and the company wants to reach 14 500 – 15 500 at the end of the year.
Click & Collect
It is also worth mentioning the click & collect delivery method, which by combining online and offline channels should be one of the elements of an omnichannel strategy. It is based on ordering goods via an e-shop and fast collection in a stationary shop. With the threat of pandemics, it allows reducing interpersonal contacts in a traditional shop to a minimum. As shown by a study conducted by Gemius and the Chamber of Electronic Economy, the availability of click & collect shipping methods encourages almost 20% of respondents to shop online (please look at the first chart).
Exorigo-Upos and product delivery options
Our company was responsible for the entire implementation of the new website for the Super-Pharm brand, including integration with the package delivery option. We also implemented parcel machine deliveries, courier deliveries and own transport for a home-improvement and construction store chain. For one of the courier companies, we have also prepared an integration module with the advanced Magento e-commerce software.
Anyone interested in our company's offer is welcome to contact us.