The Żabka Group is a company with a significant impact on the Polish economy. Last year, the total amount of added value generated by it and its cooperating franchisees reached 7 billion PLN. Compared to 2021, it was higher by as much as 31%. The Group also places great emphasis on corporate social responsibility. The company's operations are to be economically, socially and environmentally sustainable, which is why it has developed its Accountability Strategy (ESG).
In a report prepared along with infuture.institute, the Żabka Group detailed 71 trends that influence their Responsibility Strategy. The latter is formed by four pillars:
Sustainable lifestyle.
Positive impact on the environment.
Responsible organization.
Green Planet.
They describe not only the areas of the Żabka Group's activities, but also the goals (quantitative and qualitative) by which the company is moving closer to achieving its mission. In the case of the first pillar, this includes multiplying private label products that promote sustainable lifestyle by 2025. And in the case of the fourth pillar, for example, reducing the greenhouse gas intensity of stores by 70% by 2026.
Based on the aforementioned report, a radar of trends was prepared. Among the latter are social commerce, hyperpersonalization, click and collect or AI implementation. The trends that are closest to the center of the circle are the leading trends – you should respond to them first. Those assigned to the middle zone should be taken into account first and foremost when developing a 3-5 year action strategy. On the other hand, the trends furthest from the center of the circle do not have much impact on the company's current operations, but are nevertheless worth watching closely. The radar of trends, along with their detailed list, is as follows: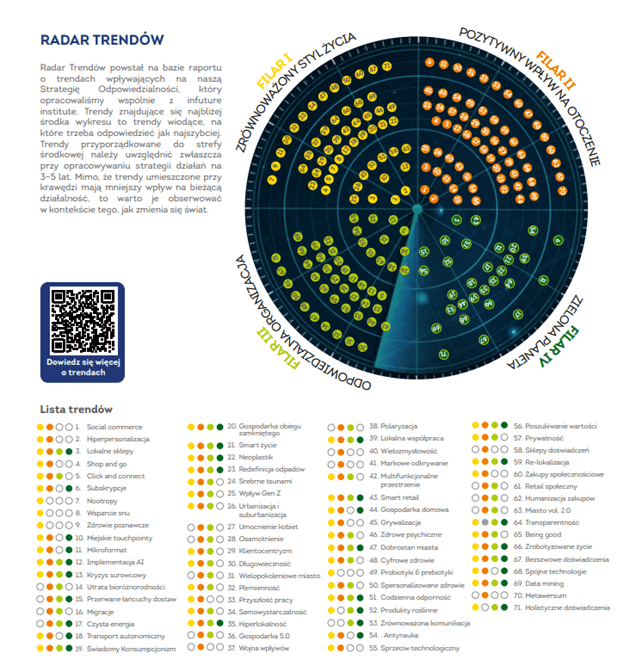 From the point of view of retail chains, trends such as:
Supply chain disruption – the pandemic has caused production stoppages that limit supply chain capacity. Addressing them is a major challenge, but will ensure business continuity and build organizational resilience.
Redefining waste – companies are carefully analyzing the production and product life cycle to implement solutions that have a positive impact on the environment. Both internally and in activities that directly engage consumers (e.g., by offering "refill" services or purchasing products without packaging).
Smart Retail – transforming physical stores into digital-physical stores. This trend is due not only to the development of technology and its wider implementation, but also to a change in consumer shopping habits (resulting from the surge in e-commerce popularity during the pandemic). As consumers have become accustomed to new conveniences and services, they increasingly expect quick, convenient, effortless and personalized experiences in traditional stores, along the lines of those familiar from the online channel.
A full list of trends with their brief descriptions (in Polish) is available here. Meanwhile, for more information on ESG, see our post about sustainable software engineering.